Reporting areas, or forecast cities, are the means in which observations and forecast information is disseminated on AirNow.gov, and are required before a forecast can be issued. The participating air quality entities in AirNow have the decision making power over reporting area creation and management.
Ideally a reporting area will consist of at least 1 assigned verification site that monitors PM2.5 and/or ozone. For information about verification sites, see this forum post.
As an example, the state of Louisiana currently consists of 8 reporting areas. Some of these reporting areas have no verification sites (forecasts only), some only have 1 verification site, while others, like Baton Rouge, have 5 or more. The maximum NowCast AQI reading from assigned monitoring sites in a reporting area will appear on the AirNow.gov Dial Page and anywhere else "Current AQI" readings are shown by reporting area.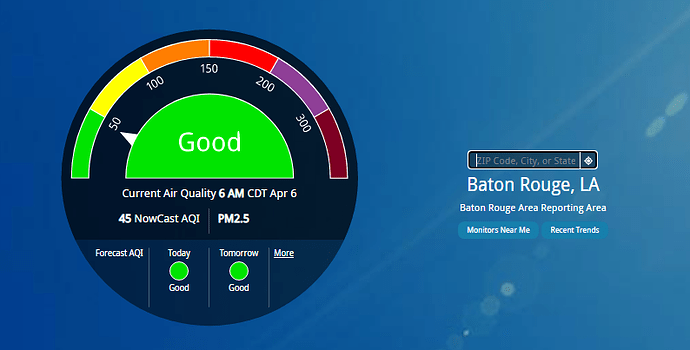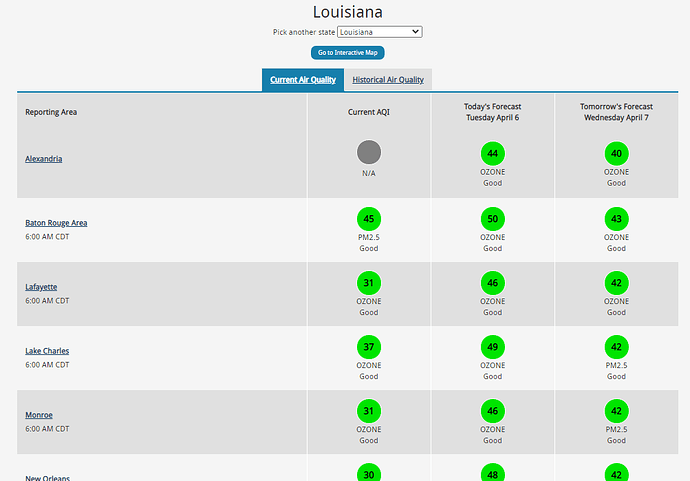 It is suggested that sites in close proximity to one another be included in the same reporting area. Sites that are isolated or are geographically distinct usually will require their own reporting area, if any. Agencies can add/remove reporting areas by emailing info@airnowtech.org with their request.
To add or remove verification sites to an existing reporting area, see this forum post